Best Lure Ever – Al's Gold Fish
Best Lure Ever – Al's Gold Fish
When I was a kid, Al's Goldfish, the best lure ever, was free with the can of shaving cream my Dad bought.  I can't remember the brand of shaving cream, but I got the best lure ever with every can he bought.  The lure was bright gold metal with a slight bend upward in the center.  It had a treble hook.  The was a simple eye to attach line.  The lure was light, but it seemed to catch every kind of fish in the lake.

Fishing the Best Lure Ever
Casting the Best Lure Ever from the Shor
The Goldfish was light so it rarely got snagged when I cast from shore. A count to 3 was enough to get the lure to the depth I wanted.  The light weight of the lure plus the shape of the body caused the lure to almost float down. The slight bend in the Gold Fish created a wobble as it was retrieved.  I always tried to figure out ways to maintain that wobble no matter how I fished the Gold Fish.   I attached the lure directly to the line most of the time using a loop through the eye and around the body.  Sometimes I added a very tiny swivel if I thought I would be switching lures.
Trolling with the Best Lure Ever
Trolling was a different matter because the goldfish was so light.  I would add spit shots about a foot to 2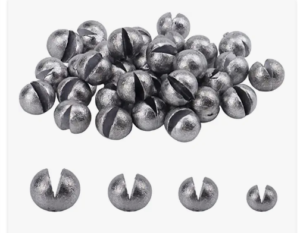 feet about the lure until it trolled at the depth I wanted.
Adding steel leaders for fish like pike, walleye and muskies meant adding action while trolling.  I would quickly pull my rod tip forward and let it slip back.  I did this frequently in consistent intervals.  The forward motion of trolling with the drop as tension was taken off the line allowed the lure to do its signature wobble.
Species Attract to the Best Lure Ever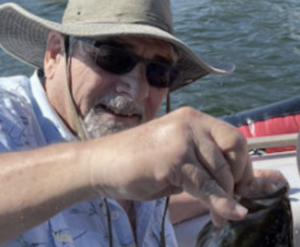 I have never tried the Gold Fish in salt water.  In fresh water, whether streams, ponds or large lakes, I have caught every species I have fished for with this lure.  That is why I call it the best lure ever.  Letting the lure drift for pools and through in rivers, I have caught lots of trout.   Casting from shore, I have caught panfish, perch and even cat fish.  Off docks I have caught walleye and bass.  Trolling, when the lure is rigged right, I have caught bass, chain pickerel, walleyes, northern pike, lake trout and even a small muskie.
If you are stocking up on lures for the spring and summer, make sure you pick up several of the best lures ever.  The gold fish is a spoon.  Now there are various colors and sizes.  I still stick to the original gold fish which I think is the best lure ever.