The Ultimate Topwater Bait
The Ultimate Topwater Bait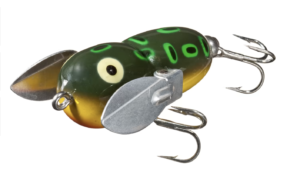 Fishing along the shore of a lake when I was 12 years old, I saw a big green bug stuck in the rocks. I picked it up.  It was a weird fishing lure with metal wings and two treble hooks. I didn't realize that I had found The Ultimate Topwater Bait.  There was monofilament line tied to the eye.  I got rid of the monofilament and tied the lure to my line.  I had an open face Mitchel 304 which I still have.  The lake was calm.  My cast went a long way because the lure was pretty heavy and there was no wind.  As soon as the lure hit the water, I started to reel.  Immediately, a fish hit flying out of the water.  I was shocked.  I loosened my drag so there was no chance of the line breaking.  After a few minutes of  fun, I pulled a beautiful smallmouth onto the rocks.  I had not idea that the lure was a Tiny Crazy Crawler, the ultimate topwater bait.  I still have one in my tackle box.
Top Water Fishing
In topwater fishing,  the bait is retrieved on the surface, rather than under the water. This technique is used for catching many species of fish including bass, pike, musky, and trout.  Typically, topwater fishing is exciting because strikes are often explosive and completely visible.  However, seeing a swirl envelope a lure and then feeling the strike can be just as exciting.  Ultimately, it's important to choose the right lure and to use the right technique to make the lure look as realistic.
Poppers In Shallow Water or The Ultimate Topwater Bait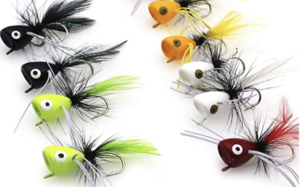 A popper is a flat fronted lure that can be of any size and color.  It is retrieved with a motion that causes it to pop in the water.  Hence, the name.  This type of lure is best retrieved with varying speed and stops on calm, shallow water.  In deeper water,  the disturbance created by the action can be lost.  This lure is particularly effective near weed beds.
Poppers can be fished with fly rods, spinning rods and bait casting rods.  The weight and shape determine which are best for which rod and reel setup.
Topwater Buzz Bait
Buzz baits come in a variety of shapes, sizes and colors, but they all retrieved quickly on the surface of the water.  Allowing the line to pass over a finger can add a jerk to the retrieval which causes feathers or tails to flutter and appear to grow and shrink.  The metal spinner churns the water while making a clacking sound.
Larger buzz baits can be used in 10 to 15 feet of water if they are allowed to sink periodically and then retrieved.  These lures are easily lost to weed beds.
Propeller Baits Similar to the Ultimate Topwater Bait
Strangely enough, propeller baits have propellers that spin and make noise as they are retrieved.  The larger sizes can be used in deeper water.  They are retrieved quickly without stopping.  Most propeller baits float so they are great to cast across rock piles and submerged weed beds.
They come in a variety of sizes and colors and even shapes depending on the manufacturer.  Heddon is the best known manufacturer.  Other companies such as Truscend have more realistic shapes.
Natural Topwater Baits
A variety of frogs, worms, bugs and other critters that swim across the surface of lakes are classified as
 natural baits.  Their delivery and retrieval are most important to entice a strike.  A frog lure must look liking it is swimming as much as possible.  A large spider needs to move across the surface as a spider would.  Consequently, you should not use these lures in rough water.
These lures are fished best with a spinning reel because of their light weight.  A slow easy retrieve with lots of wiggling and stops is best.
The Ultimate Topwater Lure
Since the day, as a 12 year old boy, I threw out my found Tiny Crazy Crawler and saw the water explode when that bass hit, I have loved topwater fishing.    I use all kinds of lures in different ways to fish top water.  But the types review here are designed for that kind of fishing.   I have caught more, larger fish and a huge variety of fish in all kinds of water using Tiny Crazy Crawlers.  It wobbles in the water a little like a popper.  It's wings open and create a sound like a buzz bait and wake like a propeller bait.  It can be retrieved slowly to resemble a natural bait.  So,  I consider it the ultimate topwater bait.  Despite all the lures I have used, I consider topwater baits the most fun.
Give topwater baits a try, especially a Tiny Crazy Crawler.  You will have fun and catch fish.