Cold Winter Fun – Ice Fishing – Growing Popularity
Cold Winter Fun – Ice Fishing – Growing Popularity
Ice fishing has been around ever since there has been winter combined with a need to eat.  Ice fishing is cold winter fun growing in popularity every year.  People pack ice fishing supplies wearing ice fishing clothes and head out to the lake.
Ice Fishing Popularity on the Rise
The Colorado Springs Gazette reports that ice fishing is on the rise.  This is despite the high cost of equipment.
Inside and Out
Ice huts are used across the north.  They are

an investment which can be used for decades.   Furniture, heaters and  TV's make ice fishing a far cry different from the days of braving wind and snow for a fresh fish dinner.
Some intrepid folks still use hand augers to cut through the ice.  They
hunker down on a wind swept lake or pond.  They endure  the elements to catch a few fish.
Every state, with a winter freeze, encourages ice fishing.  Every country with a winter freeze has ice fishing laws.
Even the New Jersey Division of Fish and Wildlife reports that more people are ice fishing every year.  This state has a much shorter season than cold weather states.  The state warns that common sense should be used when fishing private ponds and isolated lakes not officially checked for ice thickness.  This is good advice for everyone going ice fishing.
Some say that ice fishing is as fun as watching grass grow.  To the initiated, there is nothing more fun.  Freeze up is welcomed with joy.
Even In the Movies
Ice fishing has been a theme in the movies like "Grumpy Old Men."  Walter Mathau's "Green Hornet" fishing pole was the envy of his neighbor, Jack Lemmon.   In "Snow Dogs", an ice fishing colony was the setting for a show down between Cuba Goodings, Jr. and his father, James Coburn.
New Tech Ice Fishing
The Peninsula Clarion, one of the most popular newspapers in Alaska, speculates that new technology has given ice fishing a boost.
Think about how technology has impacted this winter sport.  There are:
Portable ice fishing shelters.
Light, ice fishing clothing.
Efficient, safe heaters.
Reliable snow machines.
New fluorescent lures.
Light weight, ice fishing rods
High tech, LED flashlights
Ultralight sleds.
Digital cameras to record
Dried, easy to pack dried food.
Chemical foot  warmers.
High tech, winter boots.
Light weight, durable snow shoes.
Specialized snow glasses.
Getting Ready to Ice Fish
You can't just throw a couple of rods, a tackle box and some food in the car to ice fish.   You'll have a miserable day if you aren't prepared.   Ice is cold and wet.  Lakes are exposed to weather.
Fishing Equipment
If you haven't experienced ice fishing, do some research on equipment.  Do you want to use a rod or a tip up?  Do you know what a tip up is?  How will you cut through the ice?   What kind of bait works best?  How will you clear ice and snow from the water?  Should you have some kind of shelter?
You can ice fish with any kind of fishing equipment.  But, unique ice fishing  equipment is best.  Bait isn't cast and retrieved horizontally. Its dropped straight down.  Lures don't wobble as they are pulled toward you.  The action is in a vertical retrieve.  You can't see a bobber in an ice hole.  A strike must be shown above the ice.  Its hard to fight a fish through the ice with a normal fishing rod.   You want to be as close to the fishing hole as possible.  Ice fishing equipment does all this.
                                   All the Ice Fishing Equipment You Need
 Personal Equipment
So, you've just stepped onto the ice.  You slip and fall into a huge puddle. You're soaked for the day. Water proof clothes would have helped.
You're standing around your fishing hole trying to keep your feet warm. Its not working.  Your feet are literally freezing while you enjoy this cold winter fun. You need a better pair of boots.
 Its a beautiful sunny day, but the wind begins to whip across the lake.  All you can do is hope the wind dies down. A shelter would be great.
You have a wonderfully warm coat, but the sun is beating down.  Its too cold for no coat, but too hot for your coat. Consider buying ice fishing clothes.
After a great day of fishing, your truck won't start.  There's no cell service where you have been fishing.  Can you start a fire?
Ice fishing is cold winter fun, but lots of things can happen.  Winter makes everything a little more difficult.   Make an ice fishing equipment list for everything you will need. Check the internet for a comprehensive list. 
Going Fishing
Species
Most species can be caught through ice.  Check local regulations to be sure your catch is legal.  Many places have put into place "intent" laws.  If you are caught with bait or a lure, normally used to catch an out of season species you can be charged with "intent" to catch an illegal fish.
Fishing Holes
Local regulations will tell you how many rods you can use in how many ice holes.  Its fun to see a strike across the ice.  Running to set the hook can be comical especially if you get two strikes at once.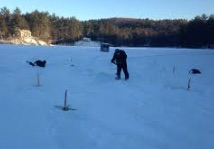 Its often good to fish shallow water and deep water at the same time.  A third hole, if allowed, at a drop off is good. If you know the water where you are ice fishing, avoid rocks and logs.  There is no way to play a fish out of this kind of cover.
Rods
Tips-Ups are the best type of rod.  A flag pops up with each strike.  The flag can be seen across the ice.
 Small jigging rods work well.  To jig effectively, you have to work the rod.  This means sitting in one place.  Jigging rods provide more action.  They can be set across a chunk of ice.  The tip can be seen jumping from a strike.
People do use traditional fishing rod and reels for ice fishing.  This means sitting farther from the hole.  You have less control with a longer rod.
There are also people who simply drop bait or jigs to the bottom on a line.  They pull the line by hand. Pulling the line up quickly attracts the fish.
Be Safe
Check on the safety of the ice at your fishing spot.
The ice of most accessible lakes, ponds and rivers will be tested by the county or the state.  Test results are often published in local papers.  Where ice fishing is popular, radio stations will report on ice conditions.  You can also look on the internet for test results.
If you know that your fishing spot has not been tested, you need to test the ice thoroughly.  The Minnesota Department of Natural Responses has put together this simple chart to make your cold winter fun safe.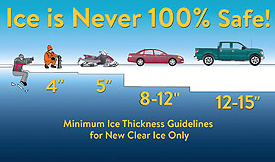 But, you still have to test the ice.   Cold doesn't always mean good ice.  Current can thin the ice.  Heavy snow can insulate thin ice.  Sudden warm weather can quickly rot exposed ice.
Always apply the 10 step rule when testing ice.  Test the ice next to the shore by punching a hole.  If its safe, take 10 small steps and test again.  Repeat this process  until you get to your fishing spot.  A long handled chisel is best for testing ice.
The safest thing, if you don't know anything about the ice on a lake, is to Stay Off.
Lots of Cold Winter Fun
Hopefully, you'll catch your limit when you're ice fishing.  But, the list of fun things to do on a frozen lake is endless.
Have a snowball fight.  Build a  snowman.  Do a little cross country skiing.  Play football or baseball.  Throw a frisbee. Have a picnic.  Enjoy riding a snow machine.  Fly a kite.  Make sure the ice is strong and have some cold winter fun.
Fishingluremart.com is an affiliate of Amazon.com and all other retailers displayed by this site.  With permission from each retailer, fishingluremart.com displays product and service links earning agreed upon commissions for each sale made from this site.  
Share you thoughts about the cold winter fun of ice fishing in the comment section below. Have you been ice fishing?  Would you like to try ice fishing.  How far is the closest lake where the ice is tested?

Shop Best Selling Knives and Fillet Boards at Rapala.com! Featuring Fillet Knives, Gourmet Steak Knives, Carving Knives and more!