Downrigger Review Choose Fresh or Saltwater – They're all fun.
Downrigger Review Choose Fresh or Saltwater – They're all fun.
This guy needs a lot of things…. a bigger boat, a plan, a lifejacket and a downrigger just to name a few.  We all have our favorite fishing equipment brands.  Usually, they become our favorites by trial and error.  It's helpful when someone tells us about a great product or when we read about something new.  Then all we have to do is give it a try.  This is no less true for something as common as downriggers.
Downrigger Review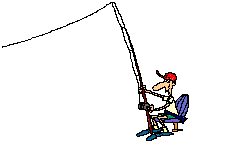 Cannon Downriggers


The biggest name in downriggers is Canon.  They make equipment for every size boat and every level of fishing experience.  The electric downriggers require an additional element of expertise. All the Cannon downriggers are rated for salt-water.
Cannon Mini Troll Downrigger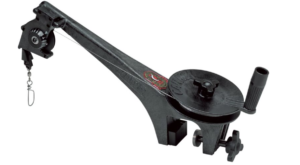 This is perhaps the smallest of the downriggers easily attached to the gunwale of a small boat.  It holds up to 150 of light steel line.  The clamp expands to 2 1/2 inches.  The reel is horizontal.
The mini-troll is exactly what the guy in the video needed for his canoe.
Pros  ………Inexpensive……….Lightweight…….Sturdy …….. goo for small canoes…..Easy to install
Cons……….Not useful on larger boats………Not useful in deep water
If you are looking for a rig for your canoe or small boat, the Mini-Troller may be perfect for you.  There are other manual downriggers offered by Canon.
Cannon Downrigger Kit
The next step up in the manual downrigger series is the Uni-Troll.  This rig can be bought separately or in a kit.  The mount is easy but permanent.  In this model, there is a rod holder.  The kit comes with what is shown.  Although the 3 items are not particularly expensive in themselves, it is nice to purchase the bunch knowing that they will all work together.  The knock-off is pretty universal, but with the kit, you will have one.
Pro………Everything included but your bait ………Inexpensive………Sturdy
Cons ….. There aren't any cons if you want a manual downrigger and related tackle.
Cannon Magnum Electric Series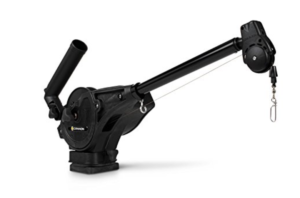 Canon has a series of electric downriggers that vary in size and price.  This model is the least expensive of the magnum series.  This has a built in rod holder and all electric release and retrieve.  It has a permanent mount base.  It is as easy to hook into your boats electrical system as your fish finder. The Magnum series has models that provide for two rod holders.
Pros……Easy to use……..Easy to install…….Sturdy……..Large capacity reel….. electric
Cons……..Installation is permanent…….Higher cost…….Difficult to use manual override
This entire series is durable and easy to use.  I am, as they say, old school.  With the exception of my fish finder, I don't use too many electronics because they become oversized sinkers with any loss of power.
Scotty Downriggers
Scotty offers an entire series of downriggers.  There is a model for almost every fishing application.  Generally, these units are lighter yet a bit more cumbersome to use than the Cannon models.  Durability may be a weakness.
Laketroller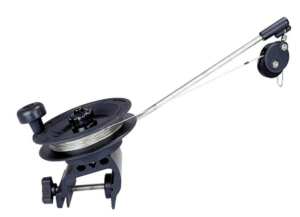 This lightweight downrigger clamps easily to the gunwale of a small boat.   There is no rod holder so a second piece of equipment would need to be added for the rod unless it is being held.  The horizonal reel can make retrieval a bit awkward, but the action is smooth with a manual drag system.  The rod length is adequate to keep bait off a small boat but will not work on a larger craft.
Pros….. inexpensive….. removable…. fully manual.
Cons……fully manual…. awkward reeling position…. very lightweight
This is certainly an adequate rig for a light boat or canoe used from time to time for a bit of trolling relaxation.
Depth King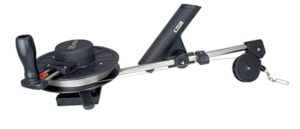 The Depth King is an upgraded model of the Scotty Lake Troller featuring a rod holder and a permanent mounting system.  The rod is extendable.  This manual system is good for any sized boat, but the reel capacity is limited.
Pros….. Inexpensive….. sturdy mount….. rod holder….. telescoping rod
Cons……limited reel capacity….. awkward retrieval system
This manual upgrade is a good buy for the "sometimes".  It is easily attached to any boat.  The rod holder means just one piece of equipment.  It also means less movement for a strike.
High Performance Electric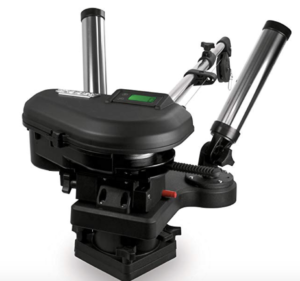 This Scotty electric model is the top of the line in this series.  It boats a dual rod holder, fully electronic function, a sturdy permanent mount plate, a swivel base, heavy telescoping rod, and digital readouts.
Pros….. sturdy….. swivel base…. dual holder… digital
Cons…. no really any cons if this is the rig chosen
There are several models of electric downrigger presented by Scotty.  All of them are durable and user friendly.
Other Downriggers
There are a number of equipment options that are less known but capable of making a day on the water wonderful.
Brocraft Minnie
This little fellow is compact and light weight with a durable mounting plate.  The rod does not extend.  The manual reel and drag site level.  Of the series we have seen, this is the least expensive model.  It would be fun for anyone fishing in shallow water, from a small boat.
Seahorse Minnie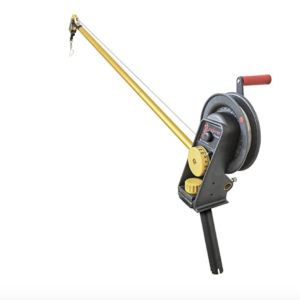 Seahorse offers a full line of downriggers with this being the smallest.   The Minne has a side mounted reel, non-telescoping rod and a fairly great mounting system.  However, all Seahorse downriggers feature a gimbal base.  They move related to the need rod position and retrieve as well as to the angle of the gunwale.  This is an added feature make turning while trolling very easy.  The Seahorse Line of downriggers is the most expensive of all related models because all models have a gimbal base.
There are many downriggers on the market.  Cannon and Scotty are the best quality for a reasonable price.  You should know you boat, your catch and the water you are fishing as you decide with downrigger will be best for you.