Family Fishing Trips Include Everyone, Young and Old
Family Fishing Trips Include Everyone, Young and Old
Have you thought about family fishing trips?  They can be fun, inexpensive and create a wonderful memory.


Family Fishing Trips – Great for Everyone
Family fishing trips can be a great experience for everyone.  Its an inter generational event that is not necessarily competitive.  The fishing gear can be inexpensive and should last for a long time.  I had the first rod and reel that I bought off a comic book cover for more than 40 years.  I hope the person who stole it is still enjoying it.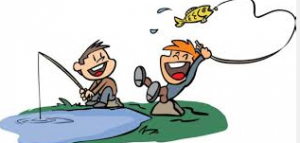 Close to Home
A lake close to home is best as the family begins to fish together. Long drives, for an experiment like fishing, can often prove difficult.  A "put & take" pay-lake is a good idea because there is a high likelihood of everyone catching fish.  Adults should understand that they will not be fishing very much while children learn to bait a hook, put on a lure, cast, untangle line, unsnag line,  untangle line, take fish off the hook, unsnag line, rebait the hook or change lures, and cast.  This is  short term pain that will provide wonderful long term gains.  The idea is to help kids enjoy the experience.  If you are a novice as well, you will have the joy of learning together.
Include Everyone
Some people just don't like the idea of catching a fish.  This goes for kids and adults.  So, family fishing trips should include other activities that involve everyone…. a meal, a movie, swimming, a hike, shopping or a boat ride.  Everyone should have fun at a family event.  I suggest that the everyone draw straws  to decide who gets to keep their cell phone "in case of emergency."  Everyone else leaves the phone in the car.  Include the non-enthusiastic by having them pick the fishing spot, or drive the boat or choose the lures.  There are lots of ways to involve everyone.
Plan a Fishing Trip
Its easy to offer a reason for staying home, but home now tends to be a place where people are isolated by chores, or computers, or cell phones or TV or something else.  Family fishing trips can bring the family together focusing on each other.  Find a lake near you.  Asking at a bait shop or sporting goods store can often provide good information for planning your day together.  Do you need fresh water lures?  Is there a tackle shop nearby.  Do you need a fishing boat?  Where can you find state fishing regulations?  Who needs a fishing license.
Plan a family fishing trip.  If your family  is too busy to go fishing, you are too busy.
Leave a comment below.  When did you take your last family fishing trip?  Was it fun?