Child's First Fishing Rod Makes Memories
Child's First Fishing Rod Makes Memories


A child's first fishing rod can build memories that will last a life time.
Fishing Gear Rod and Reel Combo
Your child's first fishing rod could be a
Telescoping Rod                                                                                                                                                                                                     Closed Face Spinning Reel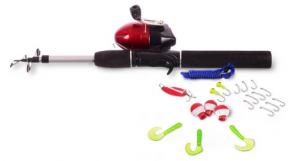 with Stringer, Bobbers, Hooks                                                                  
---
Your Child's First Fishing Rod and Reel Combo
     Since I suggested that a family fishing trip is important, I thought I would offer some information on an important part of making that trip happen.  A child's first fishing rod should fit the child and be easy to use.  A rod and reel combination is a great way to teach a child to fish.
Easy to Use, Easy to Carry
     This particular combo has a closed faced spinning reel which makes for easy, tangle free casting.  More importantly, there is a button to release the cast rather than the complex function of opening a bale, holding the line and then releasing at the right time.  The closed bale system can be used by toddlers even while they can't master the motion of casting.
     The telescoping rod is great for transporting particularly as a child swings through the world bumping into everything in sight.
Extra Gear Gives Good Value
     The Fishing Gear model comes with monofiliment line and a bit of tackle.  The spoon will help with learning to cast, but the jigs are more appropriate for the type of fishing a child will be doing.  There is also a small assortment of hooks for bait.  This combination is a bit more expensive than some child's combos because the reel separates from the rod and the telescoping rod can play a real fish.  This combo is a good value that can be enjoyed for many years.
South Bend Worm Gear Tackle Box
Plastic, Single Drawer Tackle Box                                                                                                                                                                         with assorted bobbers, stringer, hook extractor                                                                                                                                                     and assorted hooks.                                                                                                                            
---
A Tackle Box is Important
A tackle box is another piece of equipment to haul around, but this one drawer box is durable and light weight.
It would hold the assorted tackle that comes with the rod and reel combination plus the items sold with the tackle box.
This plastic tackle box will float long enough to be fished out of the drink.  The box has a large clasp latch that will be easy for most children to manipulate.
Safety First
These hooks should be used only by an older fishing partner until little hands can safely work with line and hook.  The tackle box with assorted tackle is a great value.
The combo and tackle box can be purchased together at a slight discount.  The rod and reel would make a great surprise to begin a family fishing trip.  Someone will carry the tackle box.  It will  add to the surprise and make the trip more exciting.
 Share you thoughts in the comment section below.  What kind of fishing rod did you have as a kid?  Do your children have fishing rods?