State Parks, County Parks – Family Fishing Fun
State Parks, County Parks – Family Fishing Fun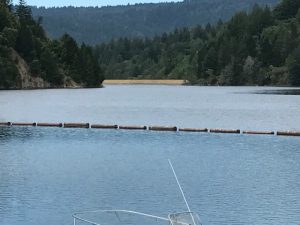 State parks can provide great fishing.  We think of county and state parks as great places to hike, camp, picnic and play.  When there is a lake, there is so much more to do.  Type "state parks" or "county parks" into your browser.  You will probably find a list of parks, in your state, that offer fishing and boating.  These parks are accessible and inexpensive.  They can be a vacation destination out of state or a great day trip.  Fishing lodges and guided trips are great, but not a possibility for everyone.  Not everybody can get to an isolated lake or stream to fish.  Accessible fishing in parks can be fun for the family or someone who wants to get away for a few hours of fishing.


Fishing at County and State Parks
Parks provide the same fishing as any water in the region.  In many places, rainbow trout are stocked by the parks system.  These fish are hardy and adapt quickly in water with adequate oxygen and temperature.  Man-made lakes can form a healthy, water ecosystem allowing predatory fish to thrive.  One tiny, county lake in central California provides great bass,  many well over 10 pounds.
Trolling or still fishing from a boat is most productive because its easy to move from  spot to spot.  The lake inlet is a great place for action.  If the lake is artificial, deep water along the dam can be very productive.
A spot on the bank can be fun, too. Most parks maintain walking paths on some part of the lake.  If someone in the family doesn't like to fish, a hike along the lake can fill the time.  In the right spot, kids can cast without concern for brush and trees.  The day can be spent sitting in one spot or walking the shoreline fishing at likely spots.
Park lakes can provide a relaxing day in nature or some great fishing.  With access controlled, the number of people on and around the lakes usually doesn't get out of hand.  The protected environment supports a healthy fish population.  In many lakes, regular stocking adds to that population.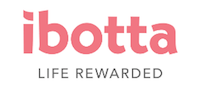 Boating at County and State Parks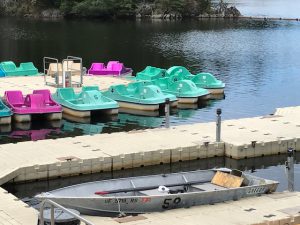 County parks often provide some kind of boat rentals.  Row boats and paddle boats are the most common form of boat rental.  They require little maintenance.  They also minimize the need for assistance, by park staff, because of break-down.  Many parks offer boats with electric motors.  If the lake is small, non-power boats protect the lake bottom and banks with the possibility of covering the whole lake on any excursion.
Larger lakes often rent power boats.  These are usually 12- 15 ft. boats with small outboards.  There are lots of lakes that rent ski boats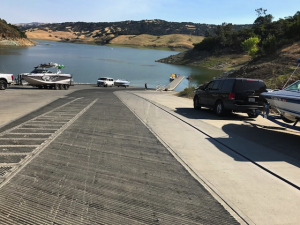 as well as pontoon boats for touring.  Some county lakes even offer house boats.  Almost all parks allow the use of personal kayaks, canoes and paddle boats.   Parks with large lakes allow power boating.  They provide launch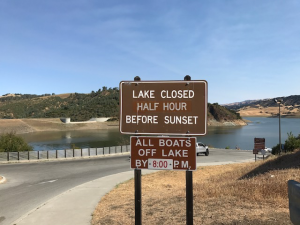 ramps for a fee.  Facilities for lakes within park boundaries usually operate from dawn to dusk.  Because of accessibility, launch times may be by reservation.  As well, parking space may be limited as a means of controlling the number of boats on the lake.   In most cases, gas is not available at state or county parks.  Camp stores and restaurants are common.  Park websites to list amenities you can expect.
Activities at State and County Parks
Fishing
Parks with lakes offer fishing for everyone from the trophy angler to the novice dropping live bait over the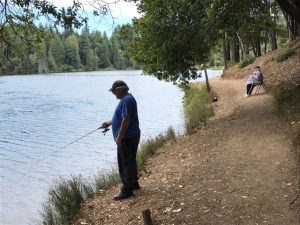 side of a rowboat to the kid catching tiny bluegills from the bank.  Well, used spots on banks not only provide fishing, but a place to sit and relax in nature.  For a small entrance fee, which provides for park administration and maintenance, you can be in nature enjoying fishing as much as hard core folks who have backpacked into an isolated lake.  But, this fishing trip is accessible from your home.
Hiking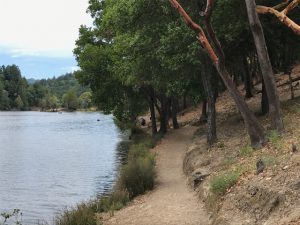 If someone wants a break from fishing, hiking is fun in most parks.  Trails around lakes are scenic.  Off lake trails are usually well marked in terms of distance and difficulty.  If critters might be a problem, alerts are posted often with advice on how to react to some of the more wild visitors to the park.  Many parks maintain stair systems to assist with steep inclines.  As with any hike, its a good idea to take water and some food.  Tables are provided at many parks to encourage picnicking.
Education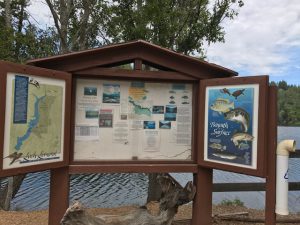 Most parks provide some kind of information about the fish, wildlife and vegetation found in the park.  This can take the form of guided tours on trails that provide easy access to trees, plants and flowers.  Sometimes there are classes about things of interest in the park.  In larger parks, films provide of a view of more isolated parts of the environment.  Sign boards are also used to educate.  They provide pictures and facts on fish and wildlife in the park.  Often, the history of the park is displayed.  Parks may have exhibits of past industry such as logging, mining or fishing.  Education isn't boring when its combined with a day at a lake.
Park Staff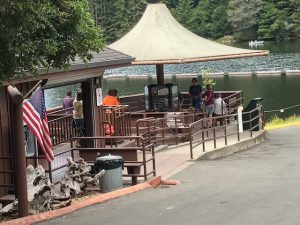 Park staff do more than greet and collect fees. They answer questions and provide suggestions that enhance the day in the park.  Many parks have small stores providing everything from clothes to bait.  Fishing licenses are on sale, for customer convenience, in the stores.  Restroom facilities placed around the park take some out the "natural" out of the park experience.  Staff will periodically patrol the lake, by boat and on foot, checking for licenses and ensuring that park rules are followed.  This protects the safety of the park and visitors.  The ranger station is the place to go with questions or for help.
Don't abandon the idea of a fishing trip because its too difficult to get to the water in the short amount of time available.  Type "state parks in your state" into your browser.  Or, look up county parks with lakes in your area. You'll discover some great spots to create fishing memories.  There are two simple rules to be remembered whenever you are spending time in nature:  Carry in – Carry Out; Push Through Don't Cut.
When asked what he thought about a county lake in California, Mitchell looked out at the water and said, "Its so peaceful.  Its so fun."  That pretty well sums it up.
Take a moment to leave a comment below.  Is there a park with a lake near you?  How often do you use it?