Best Beginner Child's Rod – Styles Available
Best Beginner Child's Rod – Styles Available
 Kids can fish as soon as they can hold a rod.  Size is most important when choosing the best beginner rod for a child.

Best Beginner Rod Size
Holding the rod is the first step to fishing.  Watching me, my kids wanted to hold a rod although they didn't really know why.   They were holding a rod long before they could cast.  I would cast and give them the rod.
A rod between 2 and 3 feet long seems the best size.  Its the right length to  handle easily.  Its long enough to play a fish.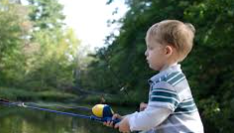 Two Starter Rod Styles
The Kid's Caster is perfect for the toddler fisherman.  Its easy to grip with two hands. The rod is stiff so it won't move around with a fish on.  If one little hand can hold the rod, the other can begin to reel.


The Mickey Rod is more advanced.  Its heavier and harder to hold.  It will have more action.These are two of the many beginner rods available.
First Fishing Trip
The first fishing trip should be from dock or the shore. A piece of worm will catch blue gills and squeals of delight.  Tiny fisherman shouldn't be pushed to do too much too fast.  Fun is the keyword.  Either type of beginner rod will start the fun.  Be sure you have a camera.
Why a Beginner Rod?
These plastic rods are durable.  They won't break when walked on by little feet.  Being stuck into the ground  or in the branches won't snap them.  Rod and reel are one piece so neither can be left behind.  Your minature fisherman looses the whole rod or nothing.
Bait casting reels take too much coordination.  Holding the line with the thumb and then releasing is hard for little hands.  Pushing the button is easy and understandable.  The little fisherman is pushing buttons on electronic toys all the time.  This button will be easy.
The closed faced reel eliminates knotted line.  Its not necessary to touch the line to cast.  Slack line won't wrap around the reel.  The only problem my kids had was dropping rod and reel in the water.
Even if fishing isn't really your child's thing, trying it out will make great memories.