Canoe Fishing —– Different Canoes – Different Applications
Canoe Fishing —– Different Canoes – Different Applications
Canoe fishing is peaceful and exciting at the same time.
Canoe Fishing Despite Selling My Fiberglass Canoe
I love canoe fishing.  Since I was a kid, I have always had access to some kind of a canoe for a fishing trip either inland fishing or salt water fishing. Sometimes, it would be a borrowed canoe.  I say "borrowed" because I always brought it back.  Sometimes, I would rent a canoe.  Most of the time, I had a canoe of my own.  Now I find myself selling my canoe because its too heavy for me to handle.  I will keep canoe fishing but maybe from a fiberglass kayak.
 Canoes I have Used

Aluminum Canoes


I have fished from a variety of aluminum canoes.  The advantage of an aluminum canoe is the weight.  Even a 16 ft. canoe is easy to carry.  I have done a lot of portaging, but even the trip from car roof to water is made easier with a light weight canoe.  The aluminum canoe is durable and fixable.  A dent from rocks in a rapid can be pounded out.  A tear can be welded.  The aluminum canoe is noisy and often clumsy.  They are practical, but, in my opinion, don't look great.
Fiberglass Canoes
I like a fiberglass canoe for fishing.  They don't amplify noise as much as the aluminum canoe.  They are generally easy to handle because they are heavier than other canoes.  The thickness of fiberglass determines the weight of the canoe.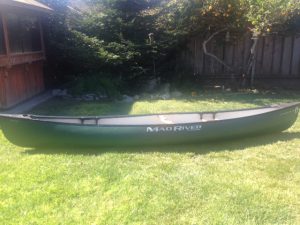 Wood and Canvas Canoes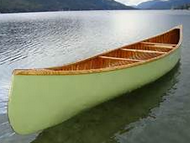 There aren't many of these canoes being made today.  They are high maintenance, but wonderful to paddle.  Usually broad bottomed, they ride high on the water and maneuver easily.  Sound is muffled because of the wood and the coating.  These canoes last forever if treated properly, but the covering canvas does take a beating over time.  Temporary repairs are easy to make, but the canvas must be replace from time to time.
Wood and Fiberglass Canoes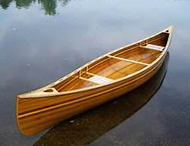 This canoe is the most visually pleasing.  A cedar strip canoe that has been fiberglassed is a thing of beauty.  Unfortunately, they are extremely heavy because enough fiberglass and resin for durability adds a great deal of weight.  These canoes hold up in rough conditions but can easily be marred by rocks, logs and sand.  Their weight makes them difficult to transport, but give great stability in the water.
Birch Canoes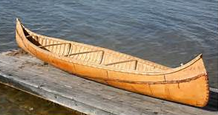 I have never owned a birch canoe, but I have paddled one with Henri Vallaincourt, who makes birch canoes as they have been made for thousands of years.  These canoes are beautiful, light and surprisingly durable.  Because they sit high on the water, a certain amount of skill is needed to maneuver them. From my point of view, the only drawback to this canoe is the price.
Variations
Different environments have produced different types of canoes.  On big water like the Hudson's Bay to the north or the Chesapeake Bay to the East, canoes were built to weather huge waves and strong winds.  Twenty-four foot square stern canoes were a common means of transporting cargo and people.  They are still in use today.   In the far north, skin was the media for boat building. In other parts of the world, burned out logs became sturdy vessels for trade and travel.   The canoe, with all its variations, is a great way to be on the water fishing.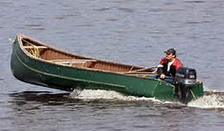 Even though I am selling my canoe, I will continue to fish from a canoe as often as I can.  There is nothing like the quiet of paddling to a fishing spot early in the morning with the mist rising off the water and fishing taking their first jumps of the day.
Share you thoughts and experiences by leaving a comment below.  Do you enjoy canoeing? What kind of canoe have you used?